Well, that is one week I would rather not relive. But we aren't here to focus on the negatives today! It's all about the positives!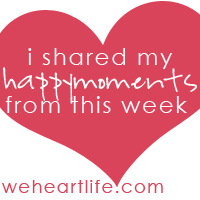 So,
my happy moments
include:
Having two awesome friends, one even
blogging about me
.
Smiling at random people.
Laughing at myself when
my umbrella broke
.
Giving a homeless women $20, just because.
Seeing
the silver lining
even after a terrible day.
Sleeping on the comfiest bed, pity with no one next to me though.

Why not pop on over to We Heart Life and share your happy moments too!